---
Message from the President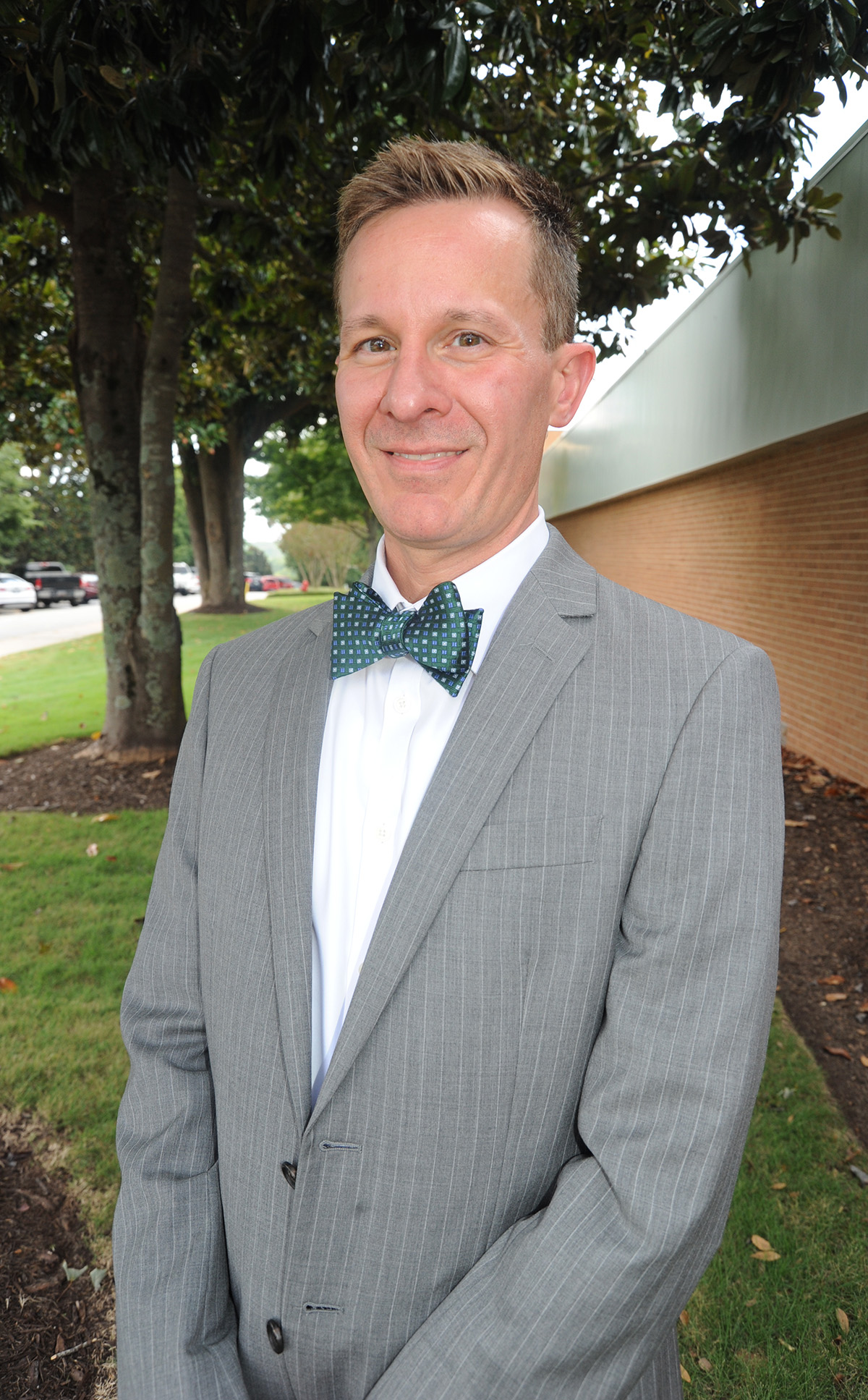 Thank you for choosing Tri-County Technical College to be your partner in education as you prepare for a successful and rewarding future.
At Tri-County Technical College, our students come first. We are committed to your success. Excellent instruction, small class sizes, and a caring, dedicated faculty and staff are just a few of the reasons students choose Tri-County.
With four campuses to serve you - Pendleton, Anderson, Easley, and Oconee - pursuing your education has never been more convenient. We offer online courses and evening classes, as well as courses in learning centers located in Sandy Springs and Honea Path. Our students are eligible for a number of federal and state financial aid and scholarship programs, including Pell grants and State lottery tuition assistance, which makes the cost of attending Tri-County very affordable.
As you peruse the pages of this Catalog, you will see a wide variety of career programs that prepare students for the workplace of now and the future, including programs in business and public services, health education, and engineering and industrial technology. We also have a strong university transfer program to prepare students for entry into a four-year college or university. Our faculty and staff are committed to excellence, and we have nearly 30 external advisory committees that help us keep our programs aligned with the ever-changing needs of the workplace. Area employers seek out and hire Tri-County Technical College graduates, and many of our alumni have risen to top management positions with local, national, and international corporations.
No matter your background, you will feel at home at Tri-County Technical College. While our average age is 22, our students range in age from the teens to the sixties, and they come from diverse racial, ethnic, economic, and educational backgrounds. I invite you to visit us at your earliest opportunity to meet our outstanding faculty and staff and to see for yourself the excellent facilities, programs, and services we have to offer.
Best wishes as you pursue your educational goals.
Sincerely,


D. Galen DeHay, President
College Mission
Tri-County Technical College, a public community college, focuses on teaching, learning, and helping students reach their goals. The College supports economic development for Anderson, Oconee, and Pickens counties in South Carolina by preparing a highly skilled workforce.
Role and Scope
An open-admission institution of higher education, the College offers affordable, accessible, collaborative, and learner-centered instruction. Offerings include university transfer associate degree programs and applied technical associate degrees, diplomas, and certificates in more than 70 majors associated with business, health, public service, and industrial and engineering technologies. The College also offers developmental courses for students who need to improve their basic academic skills.
The College promotes economic development in the region through customized education and training for local businesses and industries through credit and continuing education offerings and a variety of workforce training programs.
The College has campuses located in Pendleton, Anderson, Easley, and Seneca, as well as learning centers in Honea Path and Sandy Springs. The College also offers online and hybrid classes and a variety of academic and support services.
College Vision
Passionate people transforming lives and building strong communities one student at a time.
College Values
INTEGRITY: To be our ideal selves, doing right, and upholding and demonstrating high ethical standards at all times.
RESPECT: An understanding that everyone is important and is valued. To be open to accepting and balancing the different views of yourself and others. To preserve dignity in ourselves and others and to interact in a manner that promotes trust, openness, and understanding.
COMMUNITY MINDED: To be good citizens within the College community, upholding policies and procedures and taking responsibility for making the working and learning environment better for all. To go above and beyond the boundaries of our position descriptions, departments, or divisions and work for the overall good of the College.
COMMITMENT TO EXCELLENCE: The desire or drive to make improvements each and every day in ourselves and our environment.
Student Code
Students are members of our College community and are subject to the obligations that accrue to them by virtue of this membership.  As a Tri-County Technical College student it is your responsibility to be aware of, and act in accordance, with TCTC policies and procedures. The policies and procedures are outlined in the College Catalog, its appendices, and at www.tctc.edu.
Hours of Operation
Standard hours of operation for the College are Monday-Thursday, 8 a.m. - 5 p.m., and Friday, 8 a.m. - 2 p.m. Some offices keep extended hours in the evenings. Interested persons may contact the individual offices for specific hours of operation.
College Information
The Recruitment, Admissions, and Orientation Office provides accurate, pertinent, and up-to-date information regarding the College, its academic programs, admission requirements, resources and student services, and campus events. To request information contact 864-646-1550 or info@tctc.edu.
Campus Visits
Tri-County Technical College has four campuses: the Pendleton Campus, located at 7900 Highway 76 in Pendleton, SC; the Anderson Campus, located at 511 Michelin Boulevard in Anderson, SC; the Easley Campus, located at 1774 Powdersville Road in Easley, SC; and the Oconee Campus at 552 Education Way, Westminster, SC 29693.
Taking a campus tour is the best way for you to know truly what TCTC has to offer. Walking tours of the Pendleton campus are led by our Student Leaders and Admissions Recruiters and are held during the week with four different start times: Monday-Thursday 9 a.m., 10 a.m., 1 p.m., and 2 p.m. The walking tour lasts approximately 45 minutes with an information session to follow.
Large groups (15+ students), tours of the Anderson, Easley, or Oconee Campuses, Industrial and Technology Center, or Halbert Hall (where our Veterinary Technology program is housed), should schedule through the Office of Recruitment, Admissions, and Orientation by calling 864-646-1550 or register on our web site at http://tctc.edu/tour. We look forward to your visit!
Accreditation
Tri-County Technical College is accredited by the Southern Association of Colleges and Schools Commission on Colleges to award associate degrees. Contact the Commission on Colleges at 1866 Southern Lane, Decatur, Georgia, 30033-4097 or call 404-679-4500
for questions about the accreditation of Tri-County Technical College. (www.sacscoc.org)
Accreditation information for the following individual programs is noted elsewhere in this Catalog under the specific program heading: Associate Degree Nursing, Accounting and Administrative Office Technology, Early Childhood Development, Expanded Duty Dental Assisting, Medical Assisting, Medical Laboratory Technology, Pharmacy Technology, Practical Nursing, Surgical Technology, and Veterinary Technology.
Institutional Memberships
Alliance Pickens

American Association of Community Colleges (AACC)

Anderson Economic Development Board

Association of Community College Trustees (ACCT)

Chamber of Commerce, Clemson, Pickens County

Chamber of Commerce, Anderson County

Chamber of Commerce, Easley

Chamber of Commerce, Oconee County

Community Colleges of Appalachia (CCA)

Council for Higher Education (CHE)

Council on Higher Education Accreditation (CHEA)

Innovate Anderson

National Association of Community College Entrepreneurship

Oconee Economic Alliance

SC Association of Community College Trustees

SC Chamber of Commerce

Sister Cities of Anderson

Society for College and University Planning

South Carolina Association of Colleges and Universities

Southern Association of Colleges and Schools Commission on Colleges (SACSCOC)

Southern Association of Colleges with Associate Degrees

Upstate SC Alliance
Policy on Nondiscrimination
Equal Opportunity, Affirmative Action, Title IX and Americans with Disabilities Act (ADA)
It is the policy of Tri-County Technical College to recruit, hire, train and promote employees and to provide educational opportunities to students without regard to race, color, religion, sex, disability, veteran's status, age or national origin, in compliance with the provisions of the Civil Rights Act of 1964, Title VII of the Equal Employment Opportunity Act of 1972, Title IX of the Education Amendments of 1972, the Rehabilitation Act of 1973, Executive Orders 11246 and 11375, Revised Order 4 of the Department of Labor, the South Carolina Human Affairs Law of 1972, the Format Memorandum issued by HEW in August 1975, the Equal Pay Act, the Age Discrimination in Employment Act of 1967, the Immigration Reform and Control Act as amended 1990, and the Americans with Disabilities Act.
Student inquiries regarding compliance may be directed to:
Linda Jameison, Assistant Vice President, Student Support and Engagement, Pendleton Campus, Student Success Center, Room 123, 864-646-1562.
Employee inquiries may be directed to:
Marci Leake, Assistant Vice President, Human Resources, Pendleton Campus, Anderson Hall, Room 206, 864-646-1790.
Services for Students with Disabilities
The Accessibility Resource Center (ARC) works with qualifying students to ensure access to all programs and services by establishing reasonable accommodations for students with qualifying disabilities or other learning barriers. Current documentation of a student's disability or learning barrier is required and must be approved by the ARC prior to accommodations being issued. Documentation requirements and additional information can be found at www.tctc.edu/ARC. Accommodations cannot be retroactively applied to previous courses or course content prior to the determination of accommodations by the ARC.
Students with disabilities must self-identify and are encouraged to fill out the online Initial Request for Services form at www.tctc.edu/ARC or schedule an appointment with a staff member in the ARC to review the student's individual situation. This review process should happen as early as possible, preferably before the first day of classes. Students may schedule an appointment by contacting the ARC at 864-646-1563, or visiting the ARC in the Student Support suite in the Student Success Center (Pendleton Campus) or by visiting the front desk at the Anderson, Easley or Oconee campuses to schedule an appointment at that campus location.
Tri-County Technical College complies with Section 504 of the Rehabilitation Act of 1973 and the Americans with Disabilities Act of 1990.